Last Updated on August 4, 2020 by Ava
Whether you are just starting your podcast or you've been recording for a while, you want to know how to get your podcast everywhere.
Podcasting is an amazing medium even moreso than video. You can't consume video when you're driving down the highway at 70mph, but podcasts are perfect for anyone on the go.
You may have an amazing web presence, but when you upload those first few shows, you will be amazed at how much you can expand your reach through podcasting.
Podcasting is one area where the "be everywhere" mentality is actually a good thing.
There are dozens of podcast directories and smartphone apps out there and everyone has their personal listening preference. If you just want to cover the sheer basics, aim for these three:
Apple Podcasts
Google Podcasts
Spotify
If you stop there, you are limiting your reach exponentially.
Know Your Host
Most podcast hosts distribute to a set list of platforms. For example, I use Libsyn and they distribute to about 9 places.
I don't have to worry about creating accounts and setting my podcast up in those locations because Libsyn has done it for me.
Check with your host and be sure you know where your show goes when you publish. Duplicate distribution is bad!
Beyond that, when you set out to learn how to get your
 podcast everywhere…
A Google search will bring you a smattering of articles that offer a handful of places each to put your podcast.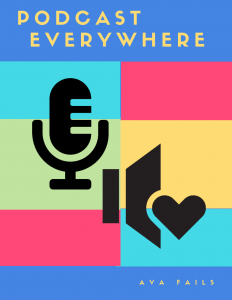 You end up having to piece-meal it all together and sometimes those articles are old and out-of-date.
I realized there wasn't a one-stop-shop to find out all the best places to create listings for your podcast, so…
In 2018, I created the first edition of Podcast Everywhere.
Podcast Everywhere is a simple PDF report that details how to get your podcast on more than 30 platforms ranging from the Big 3 I mentioned above down to lesser-known, but still highly traveled platforms and apps.
It is a must-have resource for anyone with a podcast.
It is a complete guide with step-by-step instructions and screenshots.
Currently, in its second edition, Podcast Everywhere is a must-have resource for every podcaster.
For the second edition…
I alphabetized all of the platforms so you can easily navigate to the ones you need most using the Table of Contents
I revisited each and every platform to ensure the information and screenshots were up-to-date and accurate
I nearly doubled the report in length
Podcasting is a rapidly growing medium. In 2015-ish when I first started thinking about doing my show, there were approximately 400,000 podcasts. It's more than double that today in 2020.
What others are saying about Podcast Everywhere:
"Now that you have a podcast, how do you get it on a platform, and what platform do you want to use? This guide takes you step by step, with visual aids, and shows you, down to the smallest detail, how to get on platforms such as Apple, Spotify, Google, etc. A very helpful guide of "how to" in the world of podcasting." – Kitty N.
"This guide is laser focused. Zero fluff, gets you up and running to get your podcasts across multiple platforms in the least amount of time. No need to run around trying to figure out "how to get my podcast on to X platform" – it's literally all covered in this guide. Awesome resource, excellent work." – Andy W.
If you're on the fence about starting your own podcast…
These stats should give you a detailed image of where podcasting is headed. It's all up from here! We are still in the "early adopter" phase of podcasting. You can be a freaking pioneer!
The ground floor is now!
You don't need a bunch of fancy equipment to get started. If you have a smartphone, that will suffice! Just get started!
I have a $30 microphone.
Don't get caught up in the hype of you need ______________ to do ______________ because you don't!
Your Podcast Could Be On All of These Platforms!
| | | |
| --- | --- | --- |
| Acast | Amazon Alexa | Apple Podcasts |
| Audioburst | Blubrry | Breaker |
| Castbox | Deezer | Digital Podcast |
| Double Twist | Facebook | Google Podcasts |
| iHeartRADIO | iPodder | Listen Notes |
| Luminary | Medium | Messy Bun |
| Overcast | Player.fm | Pandora |
| Pocket Casts | Podbean | PodChaser |
| PodKicker | RadioPublic | Spotify |
| Stitcher | TuneIn | YouTube |
Listen, I'm nobody with a podcast. I get 500 to 600 downloads per month on average.
How would 500 to 600 more people consuming your content change your online situation?
Right!?! That's just ONE platform!
I never aspired to do radio or anything like it, but when I launched my podcast, I was hooked!
If you have a podcast or you are thinking about having one, then Podcast Everywhere should be the third expense on your list after "buy a mic" and "get an audio host".
I took all of 2019 off from podcasting due to an illness in my family, and my show still grew the ENTIRE time with ZERO new content getting published.
Try doing that with YouTube!
Are You Ready to Find Out How to Get Your Podcast Everywhere?
Scroll down and select one of the buttons below to purchase at just $7.
You'll be taken to PayPal where you can log in securely and complete your transaction with confidence.
Once your purchase is completed, you will be redirected to a link where you can view and download Podcast Everywhere.