Last Updated on October 2, 2021 by Ava
Last Updated: 10/2/2021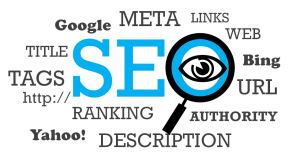 Search engine optimization, or SEO, is a way to generate free traffic to your website.
Well, it should be free.
You don't need to hire an agency for this stuff especially if you have WordPress.
In fact, SEO is kind of lame.
You should be optimizing your website for people!
In fact, SEO is taking a turn toward being experience-based meaning that the user experience is of utmost importance and ranking power.
So, you main focus for SEO should be things like page speed and making sure your navigation is concise and logical.
The Myth of Black and White Hat SEO
I fell into this trap as well.
Me and my goody-two-shoes self…I've always pushed the importance of keeping your SEO white hat.
The real heart of the matter though is that ALL SEO is black hat. None of it is really search engine approved. If Google knows you've gamed their system, they will find a way to shut you down.
How do I know?
Well, that's what they've been doing for the last decade with their P-updates: Penguin, Panda, and Puh-what was the other one?
Loopholes are only temporary.
Optimize for People
I can help with a certain amount of search engine optimization, but I strongly recommend that you optimize your online assets for people.
If you want to rank at the top of the search engines, then your online assets should be bolstered with great content and strong links from authoritative sources.
There's also an array of social reinforcements that will help cement your place.
Are You Ready to Get It Done?
If you'd like an analysis of your business as it stands, I can get that done for you. I can tell you what sites link to you, what you're ranking for currently, and more.
Haven't started your SEO yet? What are you waiting for? Let's get it done. Shoot me an email and we can talk.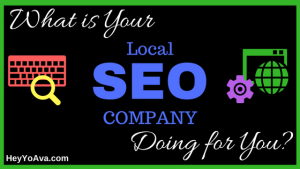 What is your SEO company doing for you? I can find out! Read this article, and find out more about what goes on behind the scenes. I am running a special right now where I actually run an audit for you totally free of charge; no stings attached. I will tell you what your local SEO company is doing in terms that you understand and answer any questions you have.