Last Updated on September 28, 2022 by Ava

In a hurry? Grab this post in PDF format -OR- Pin it to Read Later.
This episode is sponsored by Amazon Music Unlimited.
Take your music with you and get any song, anywhere! Start your 30-day free trial. If you already have Prime, you get $2 off your monthly fee.
Sign up and give Amazon Music Unlimited a try today!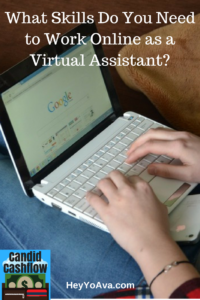 Hey all, glad to have you listening today. I thought this topic might be something a lot of people might be interested to know. If you're looking for a sure-fire way to make money online, providing a service is one of the quickest.
I don't talk about it a lot because I've found that it can also be one of the most difficult things to get out of if you ever want to change focus.
My own service business is in a serious state of growth right now, but at the same time, I'm looking forward to transitioning into a less service-oriented model. Well, sort of. It's complicated. 😀
At any rate, I figured how I got here might be of interest to anyone out there looking to provide services online for money, or who want to be a virtual assistant.
I started in 2006 writing SEO articles for a few bucks each. The Internet and Internet Marketing was a much different place then. Writing a 300 or 400-word article and mentioning a keyword in it a few times was golden. I honed my skills alongside writers making much more at it than me.
I'm not the most business-savvy person on the planet. I'll be the first to admit it. Concepts of supply vs. demand and scarcity were foreign to me. If I had known then what I know now, I like to imagine that I would be quite wealthy.
My hope is that if you know now what I know now, maybe you'll be wealthy in a few years.
To that end, I'm going share with you the skills that I've picked up over the last 12 years and counting which currently make me a living from the comfort of my home. I'm also doing a bit of research to let you know what skills are important and most in demand.  Finally, I'll let you know what skills to be building to ensure your place in the future even with the onslaught of AI.
Let's do this!
Skills to Pay the Bills
As I said, I started online writing articles for peanuts.
I don't remember where the notion first occurred to me. I was living in Las Vegas, Nevada at the time and failing miserably at it. I was in between jobs, and I was killing time online not knowing how I was going to pay the bill or even my rent with no job.
The first place I learned about making money online was the Forums at Digital Point. I don't remember what brought me to that website, but no doubt it was some random Google search.
It really was a turning point because prior to spending quite a bit of time there, I had no idea you could make money on the Internet.
It was an enigma…like making money on TV might be to a regular person like myself with no training or expertise in broadcast.
So, once I figured out that normal everyday people were finding ways to make money on the Internet, my life changed and it's never quite been the same.
Over the next several years, I became an article-writing and blogging expert. During that time, I added important skills to my arsenal like learning WordPress, and Search Engine Optimization.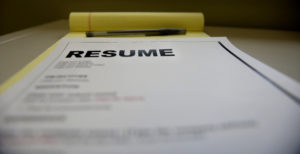 As time went on, I continued to add skills because I've pretty much tried it all. In the meantime, I was also adding one of my favorite skills…knowing how to build entire businesses online with little or no money.
I can build any kind of website, secure it, back it up, start building a list, set up payment gateways, and so much more for less than $20 out of my pocket to start.
My clients value me for my problem-solving skills, trustworthiness, good communication, cost-effectiveness, and wide knowledge of online stuff.
Most of my skills you can't buy or learn in college. You have to be in the fray to pick them up. That makes me a unique and valuable asset to many entrepreneurs.
My number one weakness is not knowing how to market any of what I just said.
My main skills are listed on my website at HeyYoAva.com/skills/. There you'll find details on things like WordPress, Social Media, Newsletters, Email Marketing, SEO, and more.
My clients, the most amazing clients on Earth, utilize me for the things I can't list on my website like developing an embeddable WYSIWYG (what you see is what you get) HTML editor for their website when I have not one shred of coding or programming ability.
That's the kind of stuff about this job that really trips my trigger.
Skills You Can Learn
Most of my skills are ones anyone can learn. I'm completely self-taught. I've learned mostly through trial how to do the things I know. In wanting to do it for myself, I've Googled my way through many things because I always had more time than money to invest in learning and doing.
I pull from my background everyday.
When I first started writing back in 2006, I chose that because I got A's in college for writing papers. It came fairly easy to me, and I knew it wouldn't be hard to adapt. I'd also been blogging privately on LiveJournal for 5 years at that point, so writing online and for the Internet wasn't a foreign concept at all.
I pull from experience in every job I've ever held…even my first job running the animatronic dinosaur exhibit for the local Science center. I pull from every class I ever took in college. I pull from all the way back in elementary school. Every piece of my life feeds into what I'm doing now.
If you want to learn any of the skills listed on my website, I will happily teach them to you as I pull from the 2.5 years I spent at the greatest job I've had to date before this…Technical Writer in the Training Department for Ahern Rentals.
Full circle is a beautiful thing.
Skills You Can't Learn
There are just some things you can't learn, or rather, they can't be taught. They just come naturally.
For example, good communication. You can be amazeballs at a lot of stuff, but if you can't communicate about that, you are screwed. I suffer from this to an extent. I can market the heck out of someone else, their skills, their expertise, etc., but I have a lot of trouble doing that for myself.
My communication via type is stellar, but ask me to give you a call and see how quickly I shut down. I must be one of the few on the planet who wants to kick whoever invented the telephone…was it Alexander Graham Bell? I hate the phone so much, I don't even care!
I have to write every episode of The Candid Cashflow Podcast, so I don't constantly veer off topic and um you all to death. I know, not very candid at all!
Good communication is just the tip of the iceberg.
To be an effective virtual assistant, here's the type of unlearnable skills you must have:
Dependability
Resourcefulness
Organization
Trustworthiness
Professionalalism
Self-Starter
Self-Motivated
Flexible
Accurate
Knows proper etiquette
Competent
Attentive to Detail
This list could go on and on. Basically, you should be trained in miracles and ooze perfection.
Top In-Demand Skills for Virtual Assistants in 2018
This could be an article by itself, but I feel it adds a great deal here. If you want to be a virtual assistant, wait, let me reword that…if you want to be a successful virtual assistant, you need to offer services that are in demand.
Any one of the skills I have could be a full-time job. What I'm saying is that it's possible to specialize in just one skill if that's more your speed. I have several because, well, I've been at this for well over a decade and these are just the things I've picked up over the years.
You can choose any one of the fields below and find plenty of work.
1. Blog/Website Management
I'd say choose a platform, and if you want the most popular, go with WordPress. I'm not going to go all into why you should choose WordPress as that will be a future episode altogether.
With WordPress, you're able to set up, customize, backup, and secure a website for next to nothing and it really gives you the tools to wow your clients. WordPress can be learned within a week. It powers more than 25% of all the websites online. No other platform can say the same.
2. Email Marketing
With email marketing, you simply need to know the basics like:
What a squeeze page is
What a landing page is
What a sales funnel is
How to create an opt-in form
How to choose and deliver a lead magnet
How to write and manage an auto-responder
Why building an email list is important
It sounds like a lot, but it's pretty simple really. There's a lot of different platforms out there, but they all do the same things. Most of them have extensive documentation available so you don't have to have tons of experience to get started.
3. Social Media Marketing
This is actually one of the most simple things in my book for a couple reasons:
Most people have an understanding of how to use Social Media because we use it personally.
It's pretty logical when used for marketing.
Social Media Marketing can be very tedious and time-consuming if you don't know what you're doing. It's also pretty much a must in 2018, so gone are the days of just ignoring it and hoping it will go away.
If you're savvy, you can make short time and big money with Social Media Marketing. I talked about this some in last week's episode on Social Media.
4. Customer Support
Yes! You can work in customer service right from the comfort of your couch if you want. There are several companies who hire home workers for this exclusively. You can work via telephone, email, or even chat.
This is a particularly good opportunity if you have experience with customer service and not much else. You can still work from home!
5. Editing/Proofreading/Writing
There are many, many writers making a comfortable living. In this same vein, editors can do quite well too. These services are still in demand and even with developing speech to text software, we still haven't figured out how to get robots to write articles and edit them.
Native-speaking writers in all languages prove over and over again to be irreplaceable.
6. Web Development
There's still businesses and people all the time who need websites. I even do the occasional website myself, and I wouldn't say that's something I really specialize in. I can do it. I know how to do it, and often that's all that sets me apart from the next person. That, and clients are usually very pleased with my pricing.
If you'd like to know more about how much I make, I'll include an extra bit in the show notes, so be sure to grab those at HeyYoAva.com/Episode15.
7. Advertising
One of the most in-demand services I've seen in my travels, and oddly one I know very little about is Facebook Ads. Companies and people want to know how they can effectively market their wares.
They want to get in front of their audience and recoup as much from advertising as humanly possible.
Facebook Ads have probably the best ROI of any advertising platform online. If this is something you have mastered, you can make a lot of money spending other people's money.
A Couple Bonuses
As much as I love free stuff, I also LOVE bonuses! If you have listened to any number of my podcasts up to this point, then you know I'm always sliding in bonuses either at the end like this or in the show notes.
Video Editing – I didn't see this listed in any of the many lists I perused while researching this article, but I happen to know for a fact, that this is a very in-demand service among video creators. Creating videos is lots of fun! Editing them, not so much.
Publishing eBooks – This is proving to be very lucrative for me. In fact, this is pretty much my specialty of specialties as a virtual assistant. I've managed to position myself in a little nook of this community and get regular clients. So much so, you might have heard me talking about starting an agency offering these services.
That's a Wrap!
So, what do you think? Do you want to be a virtual assistant?
It's pretty great, I have to say.
I make my own hours, I have tons more time than I used to, I have freedom, and I have it all in my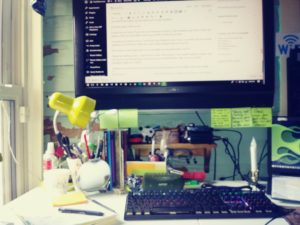 pajamas from my home office with the great little window by my desk.
I can pierce my head if I want. I can dye my hair whatever color I want. I can tattoo the ever-loving monkeys out of all of my visible skin, and remain employed just as I am now.
The wonder of self-employment so far outweighs any downside there could be.
Thanks for listening today. I hope you'll consider subscribing to The Candid Cashflow Podcast. You can do so in your favorite app at HeyYoAva.com/CandidCashflow. Sign up for my weekly newsletter while you're there!
As always, I'd love to hear from you if you have any questions or if you'd like to hire me to teach you one or more of my skills. Contact me via my website at HeyYoAva.com/contact-ava/.
Until next time, turning your passion into cashflow!