Last Updated on September 28, 2022 by Ava
Greetings Cashflowers! This week's episode is near and dear to my heart. I'm going to attempt to keep the boring backstory brief, but you know that's hard for writers!
My background is in art. It was my first love and the thing that I found I had talent in first. When I realized that I could draw well, I thought my future was decided. I wanted to be a Disney Animator!
Thus began my journey to definitely NOT being a Disney Animator! I laugh now, but in reality, I've wasted so much time being clueless about how to do exactly what The Candid Cashflow Podcast tries to teach: how to make money from my passion which was and is art.
If this podcast ever helps ONE person avoid what I've been through, then my job here is done.
A lot of elements come into play as to why I'm just now figuring this out, but the main one is that I was already well into adulthood when computers became as common to households as the television.
Many of the opportunities available to young artists just simply didn't exist for me. What a time to be alive! I'm getting a late start, but that doesn't mean you have to!
If you're an artist and you want to learn how to make money with your talent, then you definitely want to stay tuned!
Are you an artist who is ready to begin selling your work online? Step one is to create an account at Creative Fabrica! It's free to join and free to set up your shop. Get started earning passive income from your artwork by visiting HeyYoAva.com/getcreative.
Early Attempts to Sell My Designs
I majored in Graphic Design in college. My problem was that I was a decent fine artist, but not a great Graphic Designer. It seemed that Graphic Design was the only career route for an artist when I started out.
The current web trends at the time coupled with my early attempts earned me a couple of unhappy clients. While I was great with a pencil to paper, trying to create an aesthetically pleasing digital logo didn't jive with my abilities.
While I can draw anything in the world I can see, I'm not great when it comes to drawing from my head. If you're the same way, stay tuned because I'm going to share a technique in just a minute that helped me immensely in that area.
I quickly gave up when my clients weren't pleased with my designs. That's when I turned to writing. I know, I give up way too easily. The Internet was a much different place back then. There was no YouTube to find TONS of free training, and I needed a way to make money. 
I entered the workforce for the second time in my life, and wrote articles as a side gig. There I remained for nearly 2 decades.
I'm telling you this, so it doesn't have to be you! There is a space for you and your art. You can earn money from your artwork!
My Epiphany
I watch ridiculous amounts of YouTube on all different kinds of topics. 
A recommended video popped up in my feed recently that changed my life entitled Studio Vlog 001 from a user named Katnipp.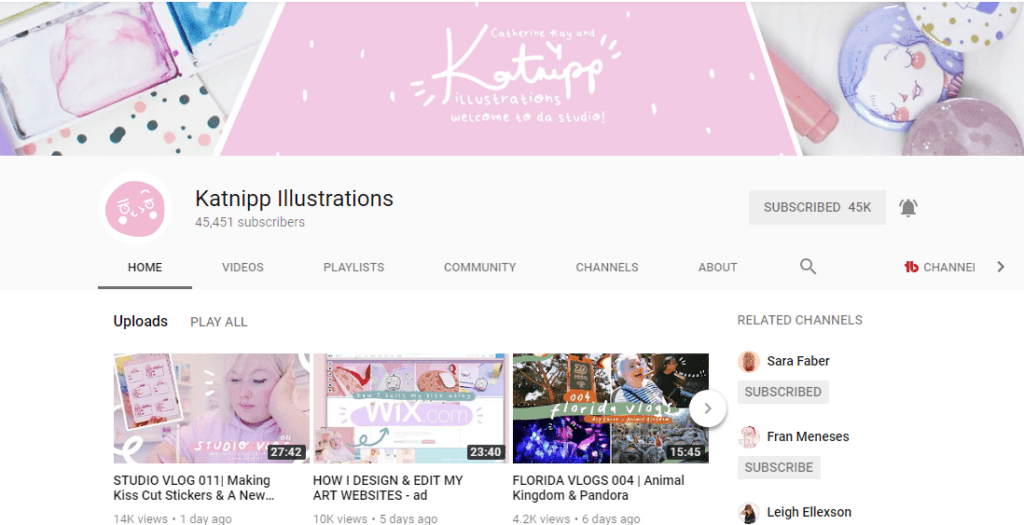 Studio vlogs are nothing new, but it was certainly new to me. I watched as Catherine filled orders from her Etsy shop, made stickers to stock her shop, and created a new set of designs for her brand.
I was in awe!
This girl was creating a business and earning a living from her artwork. Not only that, she was doing it from an adorable studio full of expensive equipment!
The doubt set in.
"You can't do that, Ava, you don't have the equipment! Just look at all that stuff! A Cricut machine, a thermal printer, heck, a regular printer, a big computer, the list goes on and on. That's thousands of dollars you don't have to do something like that."
Then my defiant and determined voice spoke up, "Watch me."
I picked up a few ideas from Catherine too. She used a technique that made the bells and whistles in my brain chime. As she was sketching her new designs, she used a red pencil until she liked the designs and scanned them into Procreate which is an Apple application sort of like Photoshop.
I'd seen this red pencil technique before, but for some reason, this time it made me excited. I could use this technique to sketch from my head.
It was like drawing with a regular pencil made design concepts and development feel too final for me. I could draw with a red pencil, and then only go over the parts I liked in black to develop my own designs!
This idea changed my world. 
I started drawing immediately after a long, long hiatus! 
Some other discoveries coincided with this that really culminated the bigger picture for me. I'd just recently been introduced to Creative Fabrica through a friend. You may know her from last week's episode. It's Kelli Roberts!
Light bulbs were going off left and right! All of this coupled with my recent discovery of selling digital downloads on Etsy, learning how to use InkScape to trace hand-drawn designs, and creating Popsockets for Merch set off an explosion in my mind. 
I could create designs and sell them online as digital downloads for others to use in their print on demand business.
So can you!
What's Your Style?
I think early on this was another big problem for me. Most of my art was pieces that I created while looking at art from Michelangelo, Degas, and Albrecht Durer. I didn't have my own style. I had some raw talent, and that was about it.
Let me interject here to say that a relevant mentor would have made all the difference for me. I didn't know any other artists besides my father who had worked his entire life doing things he hated because he couldn't find a way to provide for his family doing what he loved.
Here I was, following proudly, but miserably in his footsteps.
With the Internet of today, there's no reason you can't find someone to follow and have loads more guidance than I could have possibly dreamed of back then.
Find yourself a mentor.
Develop your style.
You can follow the trends or you can be totally unique. I've seen both work extremely well.
Katnipp is a fabulous example of someone whose style serves current trends. Her designs are sought after and she has found great success in selling them as stickers, mugs, bookmarks, coasters, and enamel pins.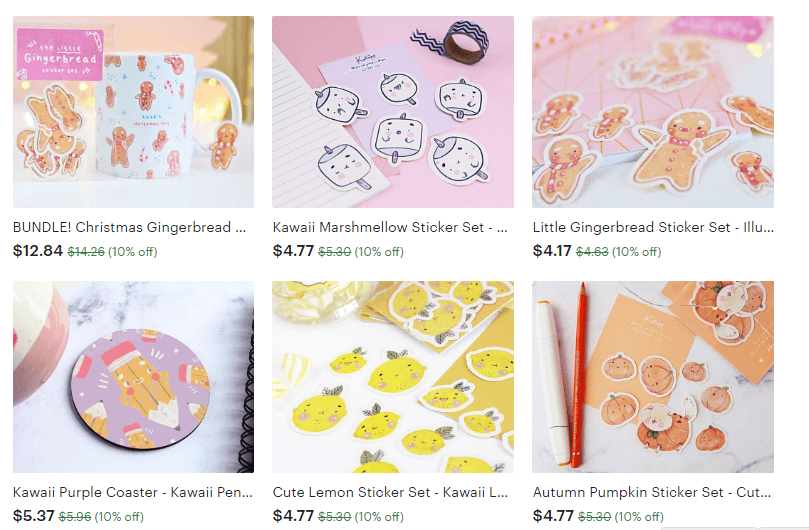 On the other hand, check out Peter Deligdisch at his Peter Draws YouTube channel. He is amazing and has created a brand and following while pursuing his own unique style.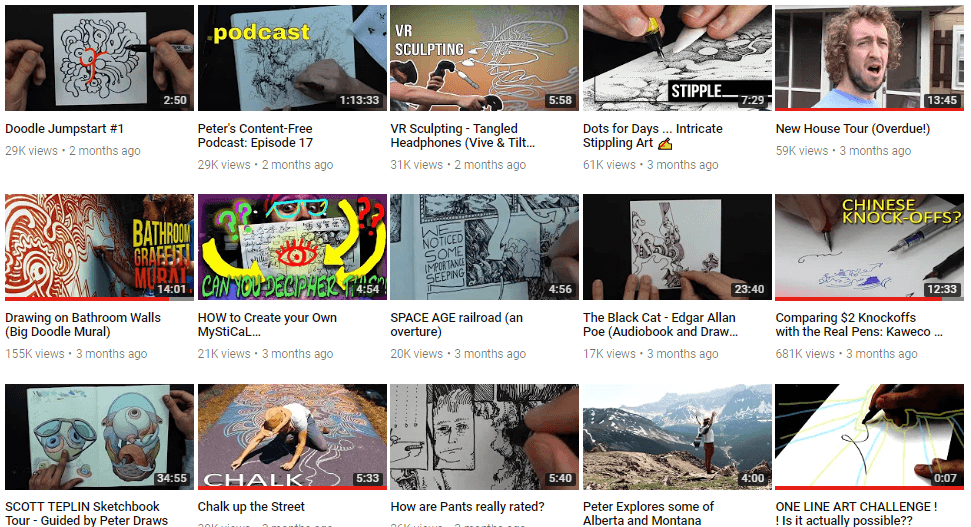 Be sure to grab a copy of the show notes so you get all these great links to Catherine and Peter. Get your copy at HeyYoAva.com/Episode49.
How to Digitize Your Designs on the Cheap
Even as doubt crept in when I was watching Catherine work in her studio, my mind was already churning out workarounds. Sure, all of that equipment makes things convenient, but it's not a requirement.
I make it no secret that I am a woman of serious financial constraints. I make enough in my business to get by, and doing bigger things than that is always a work in progress.
Obviously, I can't afford to go out and buy an iPad, a big fancy Mac computer, an updated printer, a legit camera, a Cricut machine, and the list goes on and on. 
If you're in the same boat, I can help you with minimal equipment. I have a $100 smartphone, and a $200 refurbished Dell workstation. I will include links to everything in the show notes!
If you're like me, and you're much better at creating on paper, then I'm going to share with you how I digitize my designs with a free piece of software called Inkscape.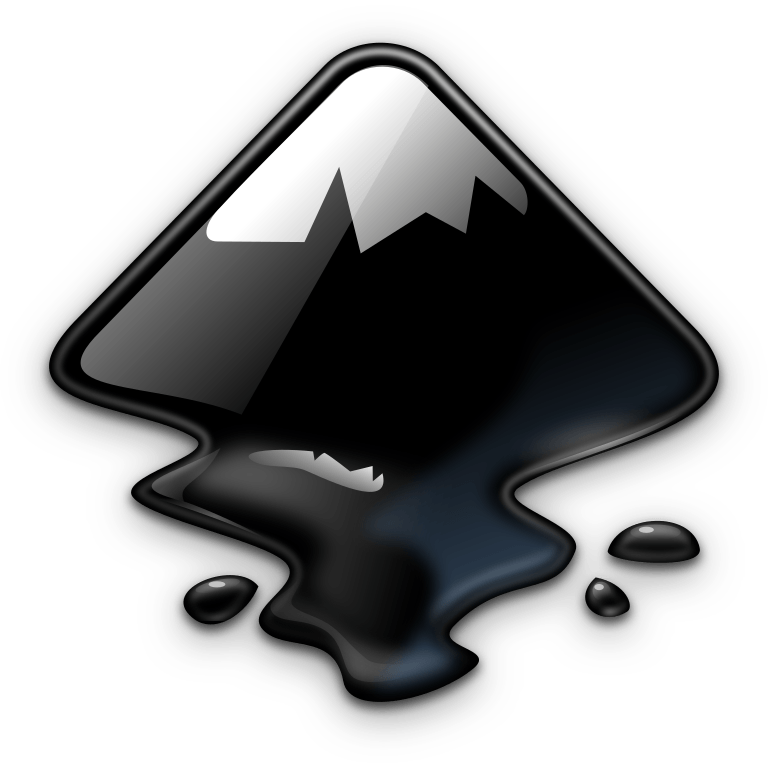 You can digitize your work with a DSLR camera or scanner, but these options are super expensive and require that you do a bit of research to find the best equipment within your price range.
Inkscape is a vector graphics program like Adobe Illustrator without the cost. It has one very important feature called Trace Bitmap that allows me to digitize my work.
I have minimal experience with vector graphic software, but am fairly proficient with Photoshop. I didn't want to spend a ton of time learning new software, and I didn't have to.
I can simply take a photo of my hand-drawn design with my phone, open it in Inkscape on my computer, and digitize it with just a couple clicks. The great thing about doing this with Inkscape is that the end result can be scaled without pixelating, and it easily removes the background.
I'm including a video on the blog and in the show notes, so be sure to check those out to see it in action.
Next Step: Create Your Online Portfolio
Once you've figured out your style and how to digitize your work, it's time to build a showcase.
If you've listened to The Candid Cashflow Podcast for any length of time, then you know that I am a WordPress girl. However, recently I've realized that SEO isn't the end all be all to building a business website.
If you are building your following on a platform like YouTube or Etsy that already gets massive traffic, then you can send that traffic to your website rather than trying to get it organically from the search engines.
So, in this scenario, building your portfolio on a free platform works just fine. I would suggest shelling out a few bucks for a custom domain at some point simply because it looks more professional. At this point, it's just not imperative that you learn WordPress when something easier will suffice.
You can use any number of free options like Wix, WordPress.com, Blogger, Tumblr, etc.
As long as you can upload your images and make them look professional, that's all you need. Your portfolio is an optional part of this whole scenario, but it's always good to have your own place online where your creations can live. This allows you to build a following outside of the platforms you choose to sell your wares. You can also build an email list, share links to all of your shops, share your social links, and pretty much whatever your heart desires.
So, it's not a requirement, but just a good business practice.
Where and How to Sell Your Art
There are many choices here, and I suggest that you start with just one.
The great news here is that selling digital downloads is one of, if not the easiest, ecommerce model to take on because it doesn't require you to stock any inventory, ship anything, or have to deal with the headache that any of that entails.
Now, I know I told you to begin with just one platform, but I started with Etsy and Creative Fabrica because I could easily copy and paste my listings from Etsy over to Creative Fabrica.
Keep in mind that these two platforms, and most of the others I'll share all have different ideas of what size a display image should be. 
I make mine 1500×1000 pixels at 72 dpi. Etsy gives me a warning, but it has not hindered my ability to list and sell on their platform. Otherwise, I'd have to make 2 sets of the same images in different sizes. That's a lot of work!
You want to offer 5 basic formats:
SVG – Cut File for Cutting Machines (Cricut Design Space, Silhouette Designer Edition)
DXF – Cut File for Cutting Machines (Silhouette Studio)
EPS – Cut File for use in other Vector Softwares
PNG – For Printables, Iron On Transfers
JPEG – For Printables, Iron On Transfers
This allows your customers to use your designs in many different ways. They can create stickers, shirts, mugs, pillow cases, etc. or just use them as clipart and in digital scrapbooking.
Needless to say, you're covering multiple huge buyers' markets.
You can create 4 of the 5 file formats with Inkscape. To convert your designs to JPGs without software like Photoshop, you can use the Convert.io website to convert one of the other formats into a JPG file.
5 Platforms Where You Can Set Up Shop
Etsy – Etsy is probably the most well-known in this list. While they began as a place where crafters could sell their handmade items, they have evolved to include crafting supplies. That's where we come in!
Listings on Etsy cost just 20 cents each every 4 months. That allows you quite a decent profit margin.
CreativeFabrica.com – Creative Fabrica sells only digital graphic design and fonts. With their great membership deals, freebie giveaways, and more, they do all the marketing for you.
It's free to open a shop and list your items there. They take a small percentage of your sales. It was super easy to get started with CF, and I've made 10 times more with them than with Etsy.
DesignBundles.net – This site is a lot like Creative Fabrica except you have to apply to open a shop. This is where your portfolio comes into play because they will ask for the URL. The approval process was super easy, and my shop was earning within just a couple hours of uploading my first designs.
Make sure your designs are completely unique. Not all of my were (had some free for commercial use stuff in the mix), so my shop got shut down as a result. However, they let me keep what I'd made as a credit on their platform and my account, so I'm hoping to reopen with only unique designs in the future.
CreativeMarket.com – This is another one where you have to apply to open a shop. They are super picky about who they approve, but if you include SVG files and fonts in your mix, you should get in.
TheHungryJPEG.com – This one is the same as Creative Market. They are picky, but like to see super clean unique designs and fonts.
If your work is good, you shouldn't have a problem with these last two.
This isn't it, when it comes to selling your art though. These are just the places you can sell it as a digital download and earn passive income. Let's talk about physical products!
Selling Your Art as Physical Products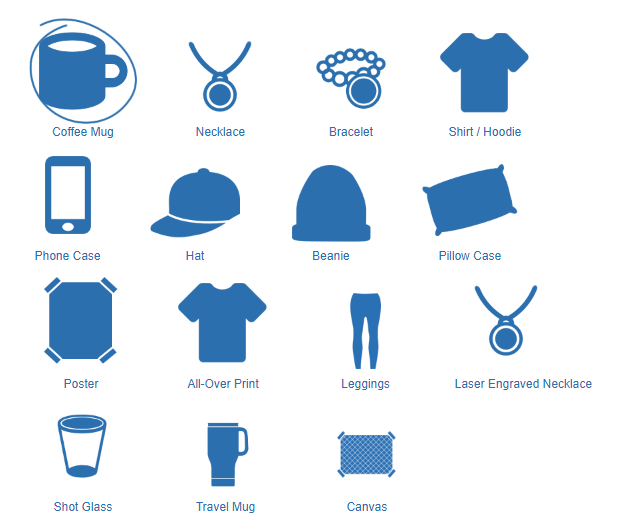 In Episode 47, we discussed making money with print on demand extensively. Be sure to check out that episode.
If you're not comfortable selling commercial licenses for your designs, and would rather build your business as the sole license owner of your work, then print on demand is the way to go.
Using a service like Printful allows you to create many different products from your designs including, but not limited to, prints.
This is what Catherine with Katnipp Illustrations does except she actually prints her own products instead of using a service like Printful.
I simply took her model in a slightly different direction by deciding that I wanted to help others fuel their print on demand businesses by selling my designs. I always have the option of using them for print on demand myself. Sell shovels!
By choosing to sell your art as print on demand products, you can sell them on Etsy, Amazon, eBay, at craft fairs, on your own ecommerce shop, and well, pretty much anywhere.
It doesn't end here.
You have dozens of options and the ability to reach millions and millions of buyers. There have never been more opportunities to earn a very good living as an artist.
Scaling Your Business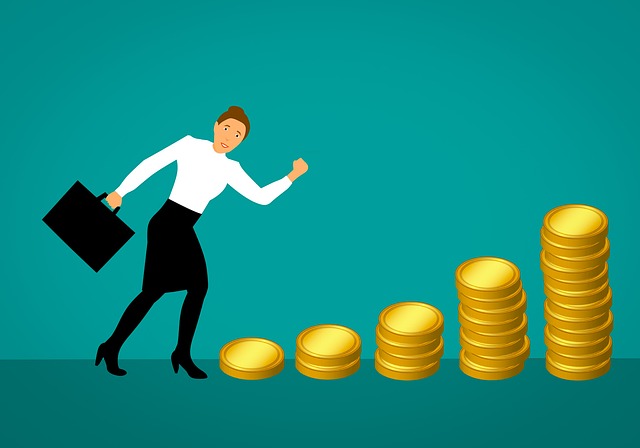 Once you're up and running with your shop and you have a little cash flow, it's time to think about scaling to the next level. 
It's quite simple to do that by expanding your current shop, opening additional shops on new platforms, or by choosing to sell physical products.
It is highly feasible that you can create a full-time income and achieve financial freedom from selling your art online. Isn't that amazing!?!
But wait, there's even more ways to earn!
Diversifying Your Income Streams
If you enjoy teaching others how to start and develop their own art empires, you can teach what you know through courses, a YouTube channel, or as a member of the growing Creative community on Twitch.tv.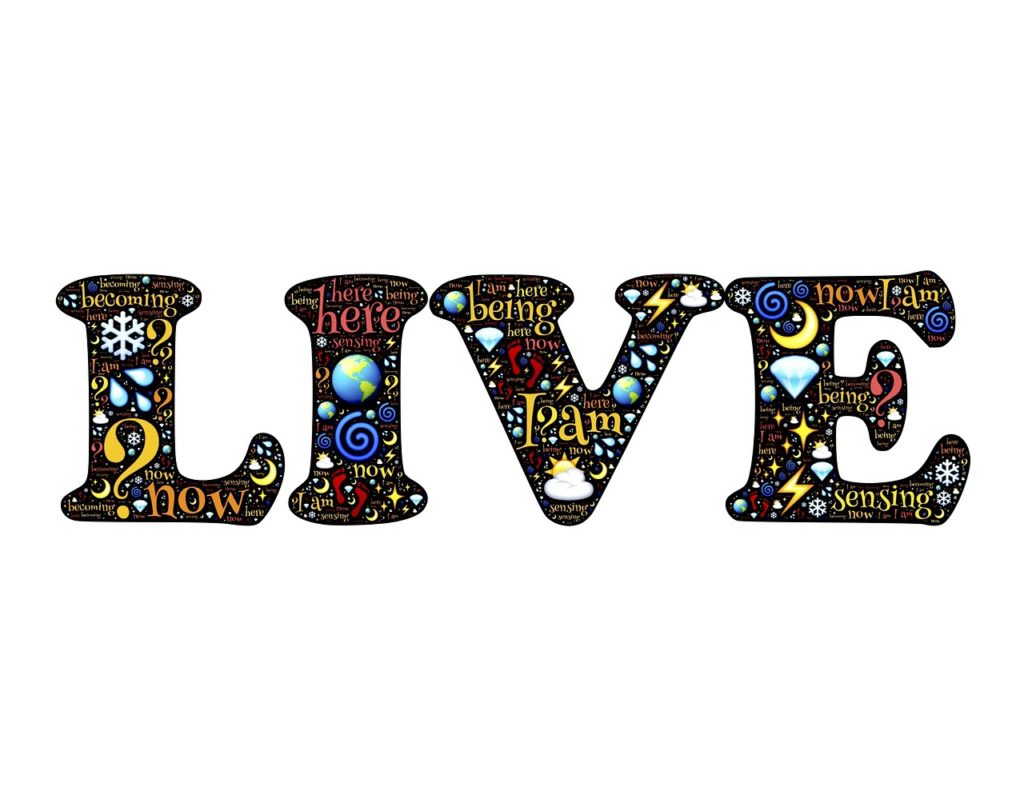 We discussed live streaming on Twitch at length in Episode 27 of The Candid Cashflow Podcast. There are many artists live streaming their work on that platform, and the number is growing all the time. 
The cool thing about Twitch is that it's easier to reach monetization status on that platform than it is on YouTube. However, don't ignore YouTube! There is a great opportunity there if you know how to rank your videos. You can earn even before you're able to monetize your videos!
We will be discussing YouTube at length in a future episode, so consider subscribing now! I've seen super small channels do very well there, and I've seen channels with just a few thousand subscribers earn 5 figures.
The best news is that you don't have to appear on camera if you don't want to. Just show your artwork!
How Much Have I Made?
I've made enough to be impressed and experience the potential. Before I crunch the numbers with you, I want to say that I've priced my stuff competitively and probably a bit on the low end. I just started this endeavor at the beginning of October 2018, and realistically, I'm not out of the testing phase yet.
You also have to take into consideration that it's Quarter Four and the Holiday season increases the demand for seasonal artwork. All of my uploads are targeted toward Halloween or Christmas.
Creative Fabrica is my biggest earner, and as of this broadcast I have earned $152.91 since October 3rd.

Etsy is next with $14.73.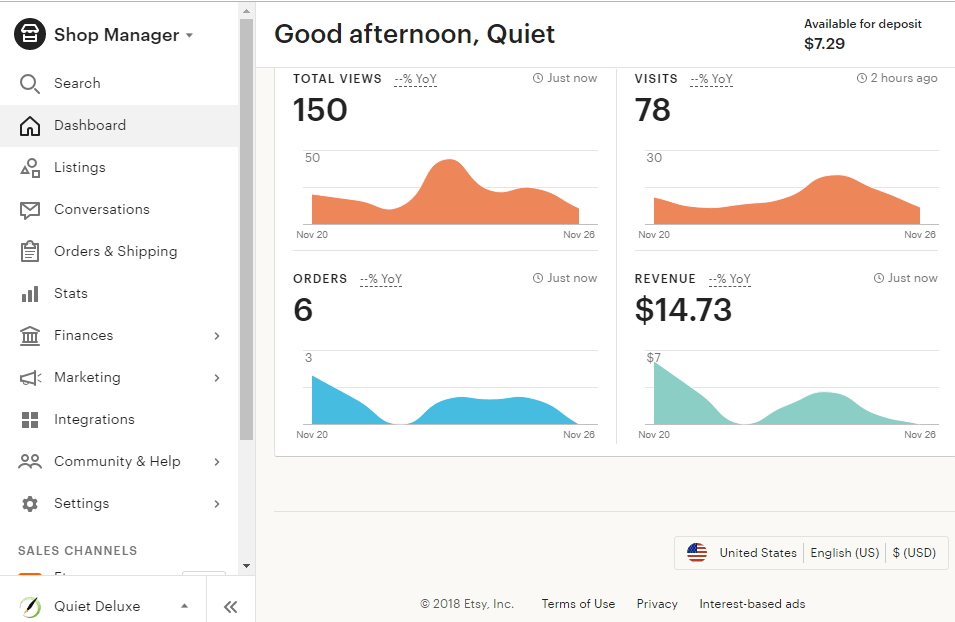 Finally, I earned $3 within just a couple hours of uploading on DesignBundles.net before my shop was deleted.
I hope these numbers inspire you to begin sharing your art with a world that desperately needs it! Art is healing!
That's a Wrap!
Thanks for stopping by! It's always nice to have you aboard the listening crew at The Candid Cashflow Podcast.
Now you can connect with us more personally at our new Facebook Group! I sure hope to see you there! Head over to https://www.facebook.com/groups/cashflownation/, and join!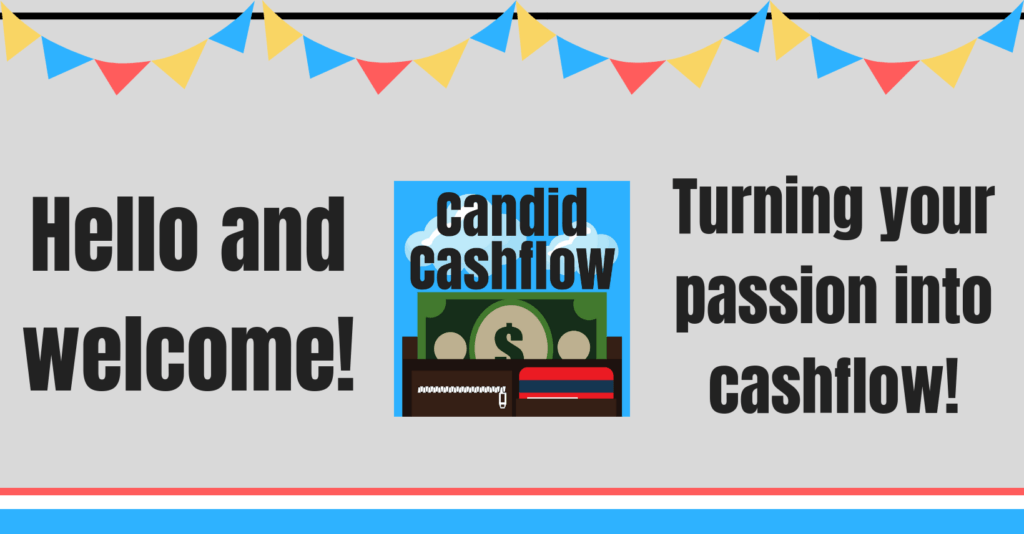 There are 3 short questions for you to answer just to make sure the Group remains a resource to the Cashflow Nation. 
The purpose of the Group is to notify you when a new episode is released, share resources that you can use to turn your passions into cashflow, and to give you access to myself and the rest of the Candid Cashflow crew. 
I sure look forward to meeting you there!
I have many great episodes planned as The Candid Cashflow Podcast enters its second year online! Now is the time to subscribe! Find your way to financial freedom by learning how you can turn your passion into cashflow! Listen in your favorite app at HeyYoAva.com/candidcashflow!
Don't forget to grab a copy of the show notes so you get all the links and bonuses. There's a ton this week! Get those at HeyYoAva.com/Episode49.
Remember, I release a new episode each Wednesday!
Until next time, turning your passion into cashflow!