Last Updated on September 28, 2022 by Ava

In a hurry? Grab the show notes in PDF format for this episode. <<<
Hello and welcome to The Candid Cashflow Podcast Episode 4!
This episode is sponsored by Blinkist.
Do you wan to be well-read, but feel like you don't have time to read? Blinkist allows you to consume the main points of a title in a matter of minutes. With 2000+ titles and 40 new ones being added each month, sign up for a free trial and see what we mean!
In this episode we are discussing 18 opportunities to make passive income, but first, what is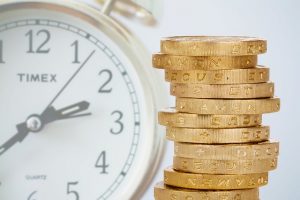 passive income?
In my own words, passive income is revenue gained from doing no work, or from doing the work once, and investing the time and money once to get paid multiple times.
Passive income is important because it's money you can make while you're on vacation, sleeping, on the weekends, or during the holidays. Because you already put in the work, time, investment once, you can now reap the financial rewards over and over.
Let's get into this!
1. Investing
I have to admit, this is an area where my knowledge wanes, but I know there is a lot of money to be made and lost in investing. Whether we are talking about the stock market or cryptocurrency, you need a lot of knowledge to get into investing seriously. You can hire a financial advisor to get you headed in the right direction.
If you just want to dabble a little with investing, you can use an app on your smartphone like Acorns. It takes the change left from your debit and credit card purchases and invests it for you.
2. High Yield Savings Accounts
If you're looking for a safe investment, try a savings account. Sure, it's boring, as you just deposit your savings and let it accrue interest, but you won't lose your nest egg in the process.
You'll most likely get a better interest rate from an online bank like Everbank or Synchrony.
3. Monetizing Things You're Already Doing
For example, you can use an app like Adme to earn money each time you unlock your phone screen.
How much can you make?
With some apps, you can make $7 to $15 per month. That's a Netflix subscription, my friends.
To earn from normal activity both on your computer and mobile device, try Swagbucks. It's one of the older, more trusted companies that pays you to take surveys, watch videos, try things like Dollar Shave Club, and search the web.
4. Credit Cards with Rewards Programs
Whether it's frequent flier miles or points that convert to cash, it's free money on spending you were going to do either way. That's a no-brainer.
5. Sell Your Photographs
Did you know that you don't have to be a professional photographer to sell your pictures? Most high-end cell phones these days pack a high-quality camera, and there are apps where you can sell your photos for a decent chunk of change.
For example, Clashot will sell your photo for up to $80 and pay you a percentage. Foap also does the same thing.
There are also websites like iStockPhoto that will pay you commissions on photo sales. There are many sites like it as well.
Let's think about this for a second…
If you utilized money-making apps on your phone and did activities on sites like Swagbucks that made you just $15 per month, in 2 years, the length of most cell phone contracts, you would earn $360 toward a new phone purchase. That's not too shabby.
6. Self-Publishing
This is one of my personal favorites and a passive income method that I am well-versed in. In fact, stay tuned and subscribe because I will be discussing self-publishing in detail in the next episode of The Candid Cashflow Podcast.
For that reason, I'm not going to cover it here in detail.
7. Real Estate Investing
This is an area that has interested me since I was a teenager. I come from a humble background. When I was 4 years old, my dad retired from 20 years in the Air Force.
For my entire growing up, we rented our homes until 1994 when Dad bought our first home, a trailer. We actually ended up in a nice park with spacious lots. The landlord lived just 50 yards or so away.
She had 13 to 14 lots in this one park with lot rent set about $150 to $200 per month. I saw this as an ideal way to generate income. She wasn't responsible for any maintenance on the homes themselves like one would be with a house or an apartment building.
The significance of this model was recently validated for me on an episode of The Side Hustle Show with Nick Loper.
Rentals are a solid and reliable income opportunity and this includes options like AirBNB and vacation rentals. Rental income can be mostly passive as well.
8. YouTube
YouTube definitely doesn't need an explanation from me in 2017, does it? If you find yourself creating any kind of shareable video content, you can earn with it on YouTube.
9. Blogging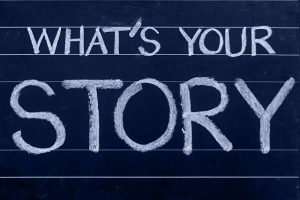 Blogging can be monetized in so many ways and combined with other opportunities  like the aforementioned YouTube.
The absolute key to blogging and YouTube as well is consistency. You must create great content consistently.
10. Referrals
You can get paid for referring others to apps, services, and programs you're already using including some already mentioned in this episode like Swagbucks and Clashot.
Referrals are actually the bread and butter of apps like those.
11. Publish an App
Code it yourself or hire a developer. Either way, a popular app or game can yield millions in passive revenue if you know what you're doing.
12. Create a Course
This is along the same vein as self-publishing. You can earn multiple times by sharing your expertise once. You can distribute paid courses a number of ways, two of which are Udemy and Gumroad.
You would be surprised how popular courses are and how much people will pay to take them. I've seen them range in cost from free all the way up to $5000.
13. Affiliate Marketing
Affiliate marketing can be a means of monetizing some of the other methods already mentioned like blogging and YouTube.
The way it works is that you link to other products and services in your content and earn commission anytime someone buys through your link.
I'd say it's probably one of the more popular forms of passive income.
14. Dropshipping
You can build an ecommerce store and stock with products that can be dropshipped by partnering with a dropshipping company.
That company handles all of the shipping, packaging, and customer service. You are responsible only for the sales. If you come to the table with a unique idea, you can make a lot of money this way.
It is one of the more labor intensive options in this list.
15. Vending Machines, Arcades, Laundromats, ATMs, etc.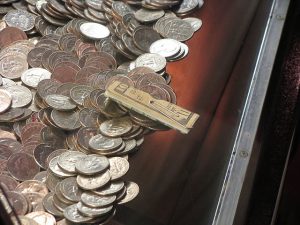 These aren't really ideal options unless you put the right machine in the right location.
For example, in Holden Beach, North Carolina at the pier, they have 2 coin dozer machines. The pier owner told me that he makes $800 a month in the summer.
That means the machine owner is making at least that, if not more.
The thing to keep in mind here is maintenance and repairs. These machines are far from a set it and forget it option.
16. Equipment Rentals
By investing in high-ticket items like tools, cameras, party tables and chairs, bounce houses, etc. you can rent them out again and again and earn back your investment very quickly.
17. T-Shirts and Other Merchandise
If you have a flair for design, you can create t-shirts and sell them on Amazon, as well as a plethora of other sites. The most popular option currently is RedBubble followed by SpreadShirt.
You can upload the same designs to multiple platforms and some of the offer way more than just shirts. For example, at Zazzle, you can create your own postage stamps.
18. Podcasting
This is my new absolute favorite! With podcasting, you are combining several methods like blogging, affiliate marketing, and referrals.
I wrote a recent blog about this actually having just finished my first week.
If you've ever thought about doing a podcast, then I urge you to DO IT! I'm so surprised and excited by how fun and easy it is.
Not only that, it generates a ton of content. When you write a blog, you can only really post that
content to your blog unless you want Google penalties.
With podcasting, a ton of new sites become available to you like SoundCloud, Blubrry, Libsyn, Podbean, Stitcher, iTunes and a crazy lot more.
In addition, you can create a splash screen , lay in your audio file, and upload to multiple video sites. On top of all of that, you can transcribe your audio into a blog post. As a general rule, many podcasts also have downloadable show notes in PDF format.
The opportunities are endless.
That's a Wrap
Whew! That was a ton of stuff in a short amount of time. Be sure to grab those notes linked above.
I've set up a mailing list. I'm being very selective about what I'm sending out, so I hope you will consider subscribing. You can do that here.
The most you'll ever receive would be 2 emails a week if I'm running a promotion or or something. Most of the time it will just be a newsletter.
That's going to do it for this episode…
Until next time, turning your passion into cashflow!