Last Updated on September 28, 2022 by Ava

In a hurry? Grab the PDF version of this post and take it with you on the go! <<<
Have you heard of Twitch.tv?
It kind of sounds like a seizure waiting to happen, but Twitch actually started as a platform where gamers could live stream their gameplay.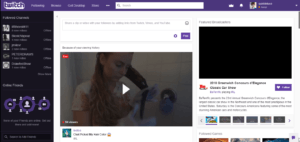 Why?
Because the next best thing to being able to play the latest video game yourself is watching someone else play it. That way, by the time you get it, you know all the tricks!
Right now, there's an expansion happening on Twitch into the creative realm, and people are streaming all kinds of things like painting, drawing, writing, sculpting, photoshopping, and more!
It's definitely not all about video games anymore!
So, if you're into the tutorial, DIY, crafting, artist thing at all, you'll want to stay tuned and find out all about Twitch live streaming.
This episode is sponsored by Yardlings.
If you spend any time outside entertaining or just hanging out, you must check out Yardlings. They have everything to make your favorite outdoor spot even better with furniture, solar LED lighting, and accessories.
Get over there and see all the great items for you or unique gifts for your loved ones. Use the link HeyYoAva.com/yardlings to get 10% off your first order!
Let's check out some stats first. Numbers are always a good indication of the viability of a platform.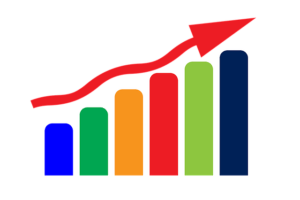 As of February 2018, Twitch boasts 2 million broadcasters per month and 15 million active users on a daily basis. It is the leading platform for streaming video game play in the United States beating out YouTube Gaming.
If the numbers aren't enough, it's beyond worthy to note that Twitch.tv was acquired by Amazon in late 2014.
There's a lot happening over on Twitch. I'm a complete noob on the platform. I've been streaming for about a month now. I'm certainly no expert on Twitch live streaming, but I fully believe in pulling others up to my level and giving them a boost beyond it when I can.
So, that's what this is. Nothing more and nothing less.
The Cool and Unique Aspects of Twitch Live Streaming
There's no other platform like Twitch.
Once you set up your channel, you can customize it with overlays, panels, and more! Yes, Twitch comes with it's own terminology.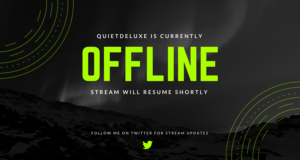 An overlay is basically an image that overlays your video stream and adds additional windows and info to the screen. Standard on most streams are the main gaming window and then a small picture-in-picture window of the streamer themselves.
Some streams include onscreen chat and music as well. You really have the ability to set the stage and atmosphere moreso than with any other video platform.
Below your streaming window, you can set up various areas where you can share your bio, social media links, a tip jar, your gear, and more! Panels are the headers above each section. They are just simple images with text that match your overall channel theme including your overlay.
In short, it's kind of technical, so I'll talk more about it a little later. Be sure to grab the show notes for links to resources about how to get it all set up at HeyYoAva.com/Episode27.
How To Make Money with Twitch Live Streaming
If your goal is monetization, then Twitch has a couple of avenues for you to pursue.
Twitch Affiliate
The first level of monetization is Twitch Affiliate. You must check off 4 achievements to be invited to become a Twitch Affiliate. They are:
Stream for 8 hours in the last 30-day period
Stream on 7 different days in the last 30 days
Gain an average of 3 viewers per stream in the last 30-day period
Get 50 followers
Once you reach Affiliate status, you can begin monetizing your Twitch streams 3 different ways:
Subscriptions – Viewers can subscribe to your channel for $4.99 per month. Twitch gets half, and you get the other half. Subscriptions do not carry over from month to month, so your subscribers must opt to subscribe manually each month. You also get 1 slot to add a custom emoticon to your chat that only subscribers can use.
Cheering with Bits – Viewers can cheer for your stream whether they are subscribed or not. You will earn 1 cent for each bit. The incentive for your viewers is a link at the top of your chat for the person who cheers the most.
Game Sales – Affiliates also earn for game sales and in-game purchases that originate from their channel as well.
Twitch Partner
The second avenue of monetization is Twitch Partner. Once you reach Affiliate, Partner should be rather easy. You must check off the following 3 achievements:
Stream for 25 hours in the last 30 days
Stream on 12 different days in the last 30 days
Gain an average of 75 users per stream
Once you reach Partner status, there are too many perks to mention them all here. You can expect to get additional revenue opportunities as well as great perks to share with your subscribers and viewers. Get the overview by visiting HeyYoAva.com/twitchpartner.
The bottom line here with making money on Twitch is that it's fairly easy and can be very lucrative if your stream is popular. Twitch pays out once you reach $100.
How To Get Started With Twitch
First and foremost, download Streamlabs OBS at Streamlabs.com.
I want to be sure that I give a shout out here to Bionic Vapour on Twitch at Twitch.tv/bionicvapour for letting me know about Streamlabs OBS. I was just using plain OBS, but Streamlabs OBS is a lot sleeker and easier to use.
Next, watch a video so you know how to set up Streamlabs OBS. It is super easy. You simply set up a scene so your streaming window includes everything you want, connect your video and audio sources, and you're done.
I consider myself to be fairly tech savvy, but I haven't done much with audio and video. I found Streamlabs OBS extremely easy to figure out the basics. I know it does so much more, but I watched one video and learned enough to get started.
You can set up multiple scenes in Streamlabs OBS so you can switch back and forth between what your viewers are seeing. For example, you may need to take a quick break, so you can put up a Be Right Back splash screen while you're gone.
I will include links in the show notes to videos to help you get started, so be sure to grab those at HeyYoAva.com/Episode27. It's simply too much to include in this broadcast.
You may have noticed when you downloaded Streamlabs OBS that there were

some ready-made free overlays available. You can grab one of these, make your own, or have it designed for you. It just depends upon the amount of effort you want to put into your Twitch channel.
For more information, be sure to check out Twitch's robust help center at Help.Twitch.tv.
Twitch Extensions
Twitch also has a library of extensions you can add to your channel. For example, there's the Bit Arcade where users pay bits to play games. Streamers receive 80% of all Bits generated from game play while the developers receive 20%. Not bad!
Extensions also can be for additional functionality of your channel like with the Latest Followers or Top Clip extensions.
Features like this really set the Twitch platform apart from its competition and can be the thing that keeps viewers coming back to your live stream for more.
How I'm Using Twitch Live Streaming
If you're a regular listener of The Candid Cashflow Podcast, then you know my day job is being a Virtual Assistant to the best clients in the world.
In Episode 15, I discussed what the job description of a Virtual Assistant entails, so if you're curious about it, grab the show notes for that episode at HeyYoAva.com/Episode15.
I want to shout out Dale here of SelfPublishingWithDale.com. He actually ventured over to Twitch and had me working on an uploading project for him. That's how I learned about the platform beyond just knowing it was live streaming for gamers. Check him out at Twitch.tv/selfpublish!
I'm billing myself as Twitch's First Resident Virtual Assistant. I've streamed myself doing everything from editing my podcast to working on different projects for my clients.
My videos include me formatting and publishing books for Kindle and CreateSpace, formatting blog posts for WordPress, updating WordPress, and more.
I also download relevant videos and upload them to my YouTube channel to take advantage of the wider audience and longevity. More on this later.
Twitch has allowed me to expand into video which is a medium I was barely using at all before. It's no secret that video is a must to build your credibility and authority. You don't have to have a very large following at all to drive sales on your products and/or services.
I know a couple of guys who have a subscriber count on YouTube under 5,000, and they use it to drive sales in their 5-figure businesses.
Even if you're reluctant about video like I am, you need to find a way you're comfortable with to create videos.
How I'm Different – A Disclaimer
I don't have a huge following at all. One reason is because I'm at the beginning of my journey with video. Another reason is because I reside outside the norm.
The majority of Twitch streamers show their face on camera. While I'm set up to do so, my live shot is from above so whatever I'm doing with my hands is visible.
The main reason for this is because I plan to stream some of my artwork in the future.
Also, when I upload to YouTube, I don't do any editing. If my videos were more polished, I would probably gain a faster following. I just want to keep things simple for now. If I make it a chore for myself, I'm more apt to avoid doing it altogether.
I continue to explore ways to make my stream worthy of the viewing time of my audience. I think the main hurdle here is that my audience isn't on Twitch yet. It really is a platform to be pioneered if you're not doing gaming.
A Few Additional Facts About Twitch
I wanted to mention a few additional facts about Twitch that are worthy of note. First off, your videos don't stay on the platform forever. Regular streamers can expect their videos to remain for 14 days. Turbo subscribers and Partners videos stay for 60 days.
So, if you're making videos of epic proportions, I suggest downloading them. Twitch makes this easy. Just visit the Video Manager in your Dashboard, click the video you want to grab, and there will a Download link in the top left of the pop-up.
I download anything that I think is a decent tutorial that I can add to my YouTube channel.
Second, you can connect to Twitch from all the popular gaming consoles, so it's not limited to computer gaming.
Third, if you're a gamer, you should totally look into Twitch and get set up for streaming. Why not? You can monetize your spare time doing something you enjoy! That's amazing! Even if you're not a gamer…there's a growing community of artists on Twitch too!
Finally, if you're an Amazon Prime member, you get Twitch Prime free. Twitch Prime is a premium service where you get a ton of perks like ad-free viewing, free in-game loot, and a free channel subscription every month.
Start Where You Are With What You Have
If you're like me, you can just look at some of these streams and know some expensive equipment is involved, and you'd be right.
In addition to whatever you need for what you're streaming, whether that's a game console or computer, you also need a microphone and webcam. Depending upon the products you use, you're looking at a couple hundred bucks worth of equipment minimum.
Because I'm self-employed, everything I do is on a strict budget. Deciding to live stream didn't mean I could buy or even afford a bunch of extra equipment, so I started with what I have.
I had my mic for my podcast already. Check.
Cameras…hmmm. My digital camera is several years old, and not equipped with wi-fi or the ability to use it as a webcam, so I had to cobble together Plan B.
I use an old cell phone with the Droidcam app for my face camera when I use one. For my overhead camera, I use an iPevo document camera I got free from UserTesting.com. The resolution is not the best, but it works. Grab the show notes for links to my exact set up.
In order to run everything, I had to get a USB hub. It's insane! It's a "cords and stuff everywhere" existence, but it's totally worth it.
Live streaming is fun!
That's a Wrap!
That's going to do it for this episode of The Candid Cashflow Podcast. Head over to Twitch.tv and check out a few live streams if any of this interests you. It takes a little set up, but opens up a lot of doors at the same time.
Even if you don't want to stream yourself, browse the Creative section by visiting HeyYoAva.com/twitchcreative and find out what people are streaming! There is some interesting stuff and great streamers on that platform.
Be sure to grab the show notes for this episode at HeyYoAva.com/Episode27 for additional links and information.
If you enjoyed the show, please consider subscribing. You can do so in your favorite app at HeyYoAva.com/candidcashflow.
I release a new episode each Wednesday.
Until next time…turning your passion into cashflow!