Last Updated on September 28, 2022 by Ava

In a hurry? Download a PDF of this article and take it with you on the go or read it later! <<<
I apologize in advance to all of the iPhone people out there. I'm committed to my audience more than I am to brands, so I will let you know which, if any, of these apps are available for iOS.
For those that are not available for iPhone, I will provide an alternative.
It's no secret that smartphones are wildly useful in business.
I mean basically, we carry around a small, portable, powerful computer everywhere we go. My smartphone has double the hard drive space of my first PC I got for college in 1999. Not to mention the memory card is the size of my thumbnail. That just blows me away.
There are more apps available out there than I could ever hope to review, use, or offer advice on. I was late to the smartphone game. I had Blackberries for work in the mid to late 2000s, so that was my first smartphone.
I regressed once I was laid off in 2008. The Android came out that same year, I didn't get my hands on one until 2012. Look, I was, and remain a woman of very limited means.
Anyway, I knew I would be a complete app whore, but wow! I love hearing about and trying out new apps. In the last 6 years, I've tried a lot of apps, and so I thought I'd share a short list of the ones that I've installed over and over again because I can't live without them. There's even a couple I started using more recently.
I don't think these are really popular or well-known apps. I guess I'll know more as I go through the list and check out their pages in the Play Store. Anyway, if you're interested in a few awesome apps for fun and productivity, then stay tuned!
This episode is sponsored by Amazon's Kindle Reading App.
No kindle? No problem. Amazon has a FREE reading app for nearly any device.
Get all the benefits of being a Kindle owner without the cost. Try a FREE Kindle Reading app for your phone, PC, Mac, tablet! Grab it at HeyYoAva.com/kindlereadingapps.
Before we jump in, be sure to grab the show notes for this episode of The Candid Cashflow Podcast to get all the links and information at HeyYoAva.com/Episode29.
I wouldn't say this is the most exciting list of apps, but I do feel I have some hidden gems for you here especially if you're an entrepreneur.
I have 7 apps for you, but it's a bit more complicated than that because one of them is actually 2 apps, and I have a BONUS with an app in it for you…so yeah.
Any stats that I share are from the Google Play Store because meh to the App Store. I could probably look it up somehow online, but I simply don't want to.
Away we go!
CamScanner
We'll start off with CamScanner. This app allows you to snap photos of important documents you want to keep track of and save.
You might be thinking, "Well, can't I just do that with my phone camera?"
You can, but can you turn it into a PDF with your camera? Probably not.
That's why CamScanner is a useful little app. You can save receipts, business cards, invoices and more and send them immediately wherever they need to go whether it's to your accountant or even to yourself.
This app is award-winning and has been downloaded more than 350 million times in over 200 countries. It is also available for iPhone.
The free version is a bit limited in features, but the paid version is only $1.99. If you want to know how to finance your paid apps for free at least on Android, be sure to grab the shot notes for the BONUS information!
Zedge/Wallpaper Changer
This is that 2 in 1 complication I spoke about a minute ago. Zedge and Wallpaper Changer are two separate apps that make a great marriage on my smartphone.
Zedge is an app for both Android and iPhone where you can find hundreds of thousands of FREE ringtones, wallpapers, notification sounds, and more.
You can also upload wallpapers by signing up for an account on your PC at Beta.Zedge.net. My most downloaded wallpapers will be in the show notes.
There's a category called Sayings where you can download everything from quotes to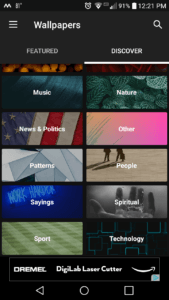 motivational statements. It's my favorite category!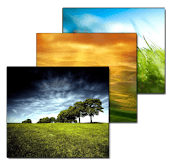 I've downloaded a ton of positive statements, and that's where the Wallpaper Changer comes in.
Instead of only being able to use one wallpaper at a time and it only changes when I change it, I can use the Wallpaper Changer app to change it automatically at the interval I choose. That way, I'm inundated with positivity throughout my day.
Unfortunately, the Wallpaper Changer isn't available for iOS, but I did find an alternative called Tapet.
Just search the web for the link or grab the show notes at HeyYoAva.com/Episode29.
Castbox
Castbox is another award-winner. When I first started listening to podcasts a few years back, this was the app I started with.
I've tried other apps like Podcast Addict, another favorite among listeners, and I have always come back to Castbox.
You can pretty much find any podcast you want on the platform, and the player and organization features are top notch. Since it's a mobile app, you can take it everywhere!
Castbox is available for both Android and iPhone.
SuperPhoto
Super Photo leans a little more toward the fun side of things, but I've used it and similar apps for one really cool reason: to make business images even more interesting.
For example, I took the logo for The Candid Cashflow Podcast, and ran it through several filters and effects to create many, many variations. Visit the blog or grab the show notes for a visual.
Why did I do this?
Well, it allows me to keep my branding intact, but not have to use the exact same image every week when I upload the new episode.
If you use Instagram for your business, or even Twitter, you can use an app like Super Photo to diversify the look of your branding images. No one wants to see your logo 500 times, but apply an effect or filter, and boom! It's a whole new image.
With the free version you get 250 different filters with free premium one available everyday. To get more features, you can get the premium version of the app for $3.99. Remember, in the show notes, I'm going to tell you how you can get paid apps free.
Super Photo is available for both Android and iPhone.
BaconReader
BaconReader is an app for accessing all aspects of Reddit.com, the front page of the Internet! If you are a Reddit user, or you use it for marketing, then you might love BaconReader.
BaconReader was around even before the official Reddit app was available, so I've stuck with it.
Since I use Reddit as a source for my Twitter feed, I can pull it up when I'm out and about or away from my computer and read.
For interesting finds, I can tap the Upvote and that will trigger IFTTT to send a Tweet automatically. There's also an app for IFTTT! Check out my free mini course by opting in to my mailing list in the rightsidebar of my website at HeyYoAva.com.
BaconReader is available for both Android and iPhone.
DroidCam
I recently started live streaming on Twitch. In fact, I talked all about it in Episode 27 of The Candid Cashflow Podcast. Rather than buy a bunch of new equipment for something I wasn't sure I'd want to do long-term, I wanted to use an old cell phone as a webcam.
DroidCam allows me to do that. I simply downloaded the app on both my PC and smartphone. I can now live stream using a cell phone.
You'd think you could just do this with your phone anyway, but you can't. You can stream directly from your phone, but as far as using it with OBS or anything in tandem with your PC, you can't without this app.
The premium version adds some functions I can't live without, but is a bit steep at $4.49. Hey, it's still cheaper than a webcam! DroidCam is not available for iPhone, but there is an alternative that works with iOS called EpocCam.
ColorNote
ColorNote is my favorite memo app. Every phone I've had ships with default memo and checklist apps, and they just never hold a candle to ColorNote.
I use this thing for everything from grocery lists to poetry composition.
The colors make it fun, and I can actually create screen shots and post them to social media for a unique look.
Unfortunately, ColorNote is not available for iPhone, but Colored Note looks to be a decent alternative.
That's a Wrap!
There you have it, Cashflowers!
Leave me a comment about your favorite apps! If you want more, don't forget to grab the show notes for a bonus app and information on financing your app addiction at HeyYoAva.com/Episode29.
Seriously, if you liked this episode, let me know and I'll do more episodes on useful smartphone apps. I love hearing from my Cashflowers.
I appreciate you taking the time to spend with me today and listen. You're a part of what it's all about. Next week, I'll talk a little about the growth of The Candid Cashflow Podcast since it will be the 30th episode!
Be sure to subscribe so you don't miss it! You can do so in your favorite app at HeyYoAva.com/candidcashflow.
Remember, there is a blog post that corresponds to every episode. You can view the archives at HeyYoAva.com/candidarchives.
I release a new episode each Wednesday!
Until next time, turning your passion into cashflow!